Categories:
Other Brands
It's good to know that Prada hasn't forgotten its roots. Maintaining the classic craftsmanship like the saffiano leather and nylon is the key to success. And that's why there is a new tote – the Prada Padded Nylon Bag from the Fall Winter 2018 Collection.
Here's a short history about Prada's Nylon. When Miuccia Prada took over the business of her grandfather in the late 1970's, it was one of her first inventions. She took the idea from parachute fabric and implemented the material into the fashion world.
Prada's Nylon is extremely strong and durable. It's easy to maintain and weight like a feather.
The Design
Miuccia Prada's career really took off after she created a beautiful minimalistic handbag in 1985. And the mixture of Nylon and minimalism style lives on in this latest Padded Nylon Bag.
This tote is not only light weighed but also extremely strong and durable. It needs minimum maintenance and it's 100% scratch-free. But one can argue whether Nylon Bags are actually luxurious or not.
The body is clean and streamlined. It features the iconic enamel triangle logo on the front and its colored in the same shade as the bag. The top is made with double leather handles for hand carry and it's embellished from the inside.
Because the bag is so light weighed, you won't mind carrying it on the shoulder. And that's also why it's made with a detachable fabric shoulder strap.
So what do you think?
The Interior
The interior is secured with an inside zipped pocket. Inside you will find the main compartment to help you store anything you need. Because Nylon is flexible, you can overstuff it without damaging the bag. Cool huh?
Prices And Sizes
Prada Medium Padded Nylon Bag
Size: 34 x 18 x 40 (H x L x W) cm
Prices: $1350 USD, €1050 EUR, £950 GBP
Prada Large Padded Nylon Bag
Size: 38 x 20 x 45 (H x L x W) cm
Prices: $1490 USD.
Where To Shop Prada Padded Nylon Bag?
1. Luisa Via Roma – Click here to shop this new Prada Nylon Bag…
More Images And Colors
comnum(0) tbcount(0) tbcount(76)
Categories:
Fashion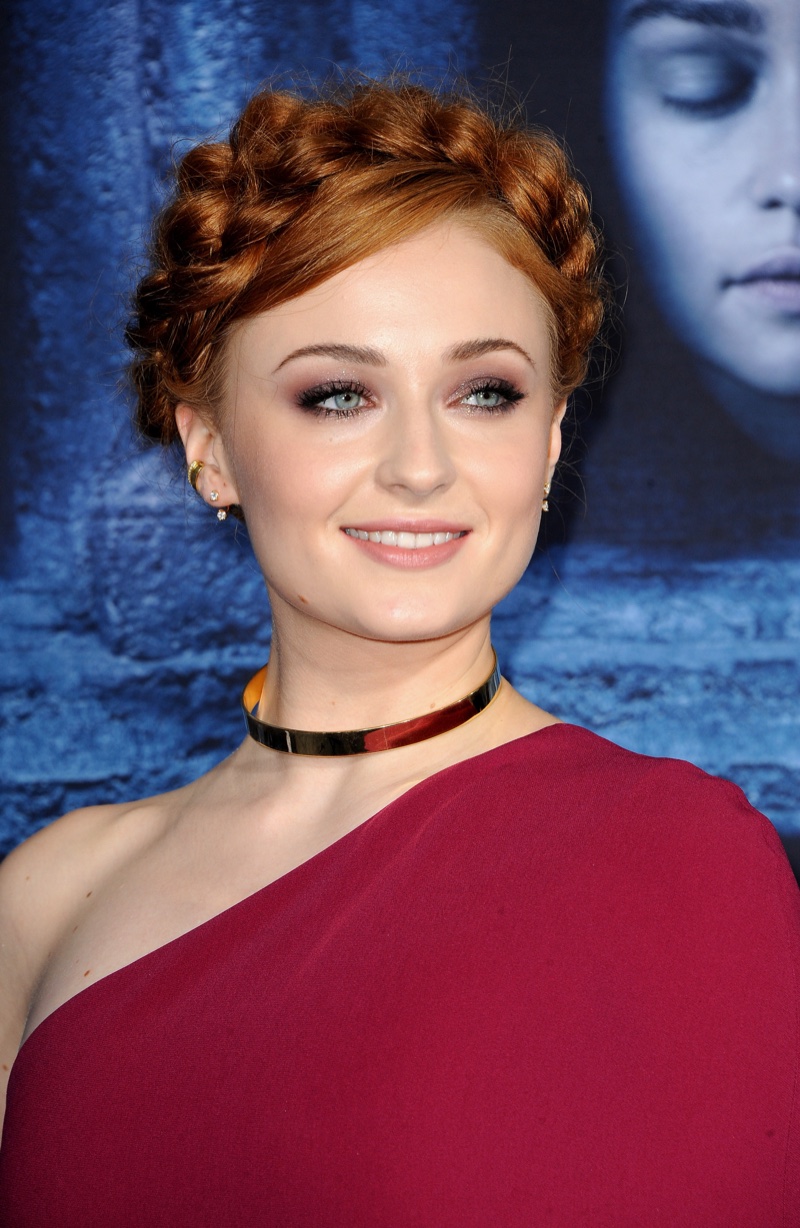 Sophie Turner wears milk maid braids. Photo: Helga Esteb / Shutterstock.com
Even the simplest hairstyles with braids make it possible to create an interesting image that does not require too much time and expensive accessories. A correctly selected braid will help underline the shape of your face, as well as disguise some shortcomings. Braids are suitable for any situation – for sports, festive events, and as an everyday option.
In any weather, this hairstyle will retain an attractive appearance. Braiding is a wonderful solution for everyday use. In the hot weather, a woman can remove long hair with the help of intricate braiding. You can get the braid undone at any time. Contrary to the common opinion, braids do not harm long hair and also protect it from ultraviolet radiation, windy weather, and other adverse environmental effects. However, braiding can cause some inconvenience, especially if there is a habit of wearing hair loose.
For braid hairstyles, there are almost no restrictions, except hair length. Braiding is quite difficult to do with a short haircut. Owners of long and medium hair are able to implement a large variety of braids for curly, soft, smooth or hard hair. After all, the goddess braids styles are able to emphasize the femininity and beauty. Nevertheless, to master even an ordinary braid yourself, you will need a little practice and skills. Here are four braids hairstyles for practical styling on the everyday basis at home.
SIMPLE BRAIDS
Source
To make it, gather hair after combing, and then divide it into three equal strands. The right and left strands should be taken with the right and left hands respectively. Move the right strand over the middle one and take it with the fingers of the left hand, but do not connect it with the left strand. With the free right hand, take the middle strand and tighten it so that the middle and left strands change places. Pull the remaining right strand over the middle strand and tighten it. Keep plaiting, alternating the right and left strands with the middle strand as long as the length of the hair allows it. The end of the braid can be fixed with a ribbon or a decorative rubber band.
FRENCH CLASSIC BRAIDS
Source
First, comb the hair back. If hair is difficult and stiff, try making the hairdo when hair is a bit wet or use special styling products. Mousse, gel and hair wax will make hair softer and supple. Divide hair into three equal thick strands. Make the usual three-strand braid, gradually adding loose hanging hair from both sides. When the neckline is reached, continue making a simple braid. If desired, you can immediately fix the braid with an elastic band or leave the hair getting loose. That is, the French braid is similar to a simple braid, but it has one feature. Plaiting goes from the upper line of hair growth with the thin strands and you gradually add more hair from the top and temples.
FISHTAIL BRAIDS
Source
It is also known as a herringbone braid. The difference from previous braids is that you will need only two strands. For that, gather your combed hair into a low and back ponytail and make two equal strands. Take one small strand and put it crosswise on the opposite one. In this way, the right strand goes to the left, and then, the left one goes to the right. Repeat it this way until your hair runs out. The main advantage of the fishtail braid is its diversity. There are many variations of such an interesting plaiting that will allow you to diversify your image. For instance, you can make two pigtails and then braid them together. The way of braiding is always the same.
MOHAWK GODDESS BRAIDS
Source
This hairstyle is also known as Dutch braid. To make a Mohawk braid, brush first your hair back. Gather two hair strands directly behind the front part of your head. Then, take a chunk of hair in the upper part of your forehead. Begin to make the braid as close as possible to the forehead, twisting the outer strands together. Continue braiding down the top of your head. Fix the end of your braid and secure it with hairspray if needed. Following the up-to-day fashion, the sides of the head can be shaved to really look like a Mohawk woman. There are also many variants of this hairstyle to try on.
When the braid is not perfect at first, do not worry. With a little practice and proper care of your hair, you will surely be able to create cute goddess braids hairstyles in a couple of minutes. Even with an average hair length, you can use all kinds of braiding, from simple to the most complex. Some skills in making different braids will enable you to create a new interesting image each day.
comnum(0) tbcount(0) tbcount(66)
Categories:
Fashion
Reformation 'Colby' Dress in Aegean $148
Take on the denim trend in a button front mini dress made with a v-neckline.
First launched in October 2017, Reformation'saffordable line of basics gets an update for the summer 2018 season. Choose from hooded sweatshirts, lightweight knit dresses and flirty wrap dresses. Prices start at $28 for a shirt and go up to $148 for two-piece sets. See some of our picks from the latest Ref Jeans styles below, and shop more at TheReformation.com.
Related: Discover Reformation's Summer Linens
REFORMATION – REF JEANS – SUMMER 2018
Reformation 'Coronado' Hoodie in Love Your Mother $78
Show some love for Mother Earth in a forest green sweatshirt with a slightly cropped fit.
Reformation 'Donna' Dress in Dusty Rose $98
This form-fitting dress made from an eco-rib fabric comes with a center back slit.
Reformation 'Crystal' Bodysuit in Ceto Stripe $48
A rib knit bodysuit comes in a classic black and white pattern.
Reformation 'Ports' Dress in Eleanor $98
This mini dress features a wrap silhouette with a floral print.
Reformation 'Jeannie' Two Piece in Salton $148
Made of denim, a two piece set is all about flaunting your figure.
Reformation 'Tali' Dress in Ivory $78
A simple shift dress comes with a crew neckline made of rib knit fabric.
comnum(0) tbcount(0) tbcount(73)
Categories:
Fashion
Fei Fei Sun stars in Massimo Dutti's spring-summer 2017 campaign
Smart casual is a word thrown around a lot in the world of fashion. It is always perceived as something you can comfortably wear to work, but still look gorgeous and stylish after hours. With its prejudice in contemporary days and age, even some of the fashion gurus can puzzle over the throwaway term. The most straightforward definition of smart casual is a neat, conventional and informal style that is mostly worn to conform to a specific dress code.
Today, fashion trends have shown that getting smart-casual right will set you free from the chains of the traditional full oversized suit that makes an individual look out of place. This fashion style is currently associated with weekends mostly Fridays for white collar jobs and people in the business. You will find men wearing a pair of jeans and T-shirts at work and allowed to get away with it comfortably. However, it is a different thing when you get to dress down, for example heading to work on Monday with a T-shirt, sneakers and a rugged trouser. I am confident your boss will call you for a quick staff meeting!
Women are not left out in this casual smart dress code craze, and they have found their fancy below dresses that can be worn to the office just as they do it at the club on a Friday night. Such women find it absurd for their men to wear a full suit on Friday evening club party. Chums is a great source for selecting dresses for different occasions.
Clement Chabernaud poses in Iceland for Mango Committed's fall-winter 2017 campaign
SMART CASUAL FOR MEN; HOW TO DRESS DOWN IN STYLE
Men can find their perfect balance for the lively casual style no matter the occasion.
TROUSERS
For smart casual, what you wear at the bottom will be different according to what is on top. You can wear a pair of jeans for any occasion; a wedding party, a date or an evening hang-out with friends at the bar. They should be perfect if they are dark, rip free and well –fitting.
T-SHIRT
Make sure you choose a well-fitting t-shirt and avoids the baggy type because it will look unkempt and awkward. Depending on the color of your trousers, a bright color will also be perfect. Besides, a plain crew neck t-shirt will look great, and you may choose a neutral color like white or black to ensure it`s clean and smart.
Simon Nessman stars in Giorgio Armani's spring-summer 2018 campaign
JACKET
A blazer is perfect for a smart casual style, but there is a significant difference between a casual and official blazer. A casual blazer is specially made for a casual look, while a formal blazer is obtained from a full suit. For a blazer, choose one with minimal and clean lines to avoid being too casual. If you go for a tailored one, match it with slim fit jeans and avoid anything that is too baggy or tight. For a perfect match, ensure that your denim is darker than your blazer.
THE SHOES
Just like women, the boots are the most significant part of the outfit. To get a casual smart look, opt for a pair of leather boots that has a rounded toe or just simple canvas shoes. For a refined, its casual look, make sure to clean and brush your shoes, iron your shirt and check if your jacket has a pocket square. It will surely leave a long lasting impression.
Andreea Diaconu and Baptiste Radufe appears in MICHAEL Michael Kors fall-winter 2018 campaign
SMART CASUAL FOR WOMEN
JEANS AND TOP
Jeans and a top is the most accepted casual outfit for women to wear to any occasion. However, there are some points to consider when choosing the perfect jeans. For an event, choose a pair of jeans that are clean and crispy. Depending on how you will style your jeans and top, you can achieve a dressy casual or casual look. For a smart casual look, elevate your attire with fashionable accessories.
A SKIRT AND TOP
Another perfect choice of smart casual look is a skirt and a top. You can wear this to the office or dress in casual occasions. To stand out with this outfit, choose to combine a pink sleeveless top and a green pencil skirt. Since green is a versatile shade to use in an outfit, you can still wear it with a solid top color. Playing with colors is the most convenient way to transform your casual look to be high quality.
A SMART CASUAL DRESS
A dress is perfect to achieve to get that smart casual look for any event. It is common for most people because it is easy and feels fail-safe. This attire can be dressed up and down, and most women feel more confident when they wear one. For a casual wedding, take a printed dress and add some elements to it. You can finish this great outfit with a pair of heels from your favorite fashion designer.
H&M Loose-Knit Sweater, Original Straight Jeans, Sandals, Polarized Sunglasses and Bracelet
A SWEATER AND PANTS
The most convenient way to take an evening out with a casual smart look is finding a novelty sweater and with a pair of tailored pants. You can choose a mint sweater that contains little lace details around the shoulders and style it with a Boden pair of navy pants. Navy and mint is a great color combination. Finish your smart look outfit with a pair of peach flats, coral handbag and a necklace that contains all the three colors of your outfit.
For dinner invitation, nail the great look by mixing classic items like a pair of black pants with off the shoulder top. For casual wedding attire, choose a chic dress and pair it up with low heels and casual accessories. The right accessories are always ideal for casual outfits. For a good bag, opt for that fits your complex yet laidback ensemble.
comnum(0) tbcount(0) tbcount(75)
comnum(0) tbcount(0) tbcount(71)
Categories:
Other Brands
In love with little cute accessories? Well, take a good look at the Chanel Timeless CC Passport Holder from the Pre-Fall 2018 Collection. It's a new choice besides the diamond-quilted version of the Classic Passport Holder.
The Timeless CC is one of the signature styles of the house. Remember the Timeless CC WOC? Or The GST? Or The PST? They're all made in smooth leather but refined with a leather CC logo.
The Design
This Passport Holder is crafted with an updated version of the Timeless CC Logo. You see, the Timeless CC styles are all crafted in smooth leather, just like this one. And they usually feature the CC leather logo in medium-size.
But this CC logo is slightly altered comparing to the original Timeless CC Logo. If we zoom-in, we can see that the logo is braided, forming stripes inside the CC.
The Timeless CC Passport Holder is a chic yet handy mini accessory. It helps maintaining your fashion style while on vacation. And if you travel a lot, then this passport holder is definitely a must-have.
Made from luxurious and durable grained calfskin leather. Now let's see the inside.
The Interior
Inside you will find multiple compartments, including a pocket for your passport. There is also a built-in card slots.
The Prices And Sizes
Style code A70338, measuring 6.1' x 0.8' x 3.9' inches, priced at $525 USD, $650 CAD, €445 EUR, £400 GBP, $760 SGD, $4100 HKD, $740 AUD, ¥62640 JPY, 2030 MYR via Chanel boutiques.
More Images And Colors
Categories

New Posts

Hot Posts